The Titus 2 Ministry for Women (Part 2: How I've Been Blessed by Older Women)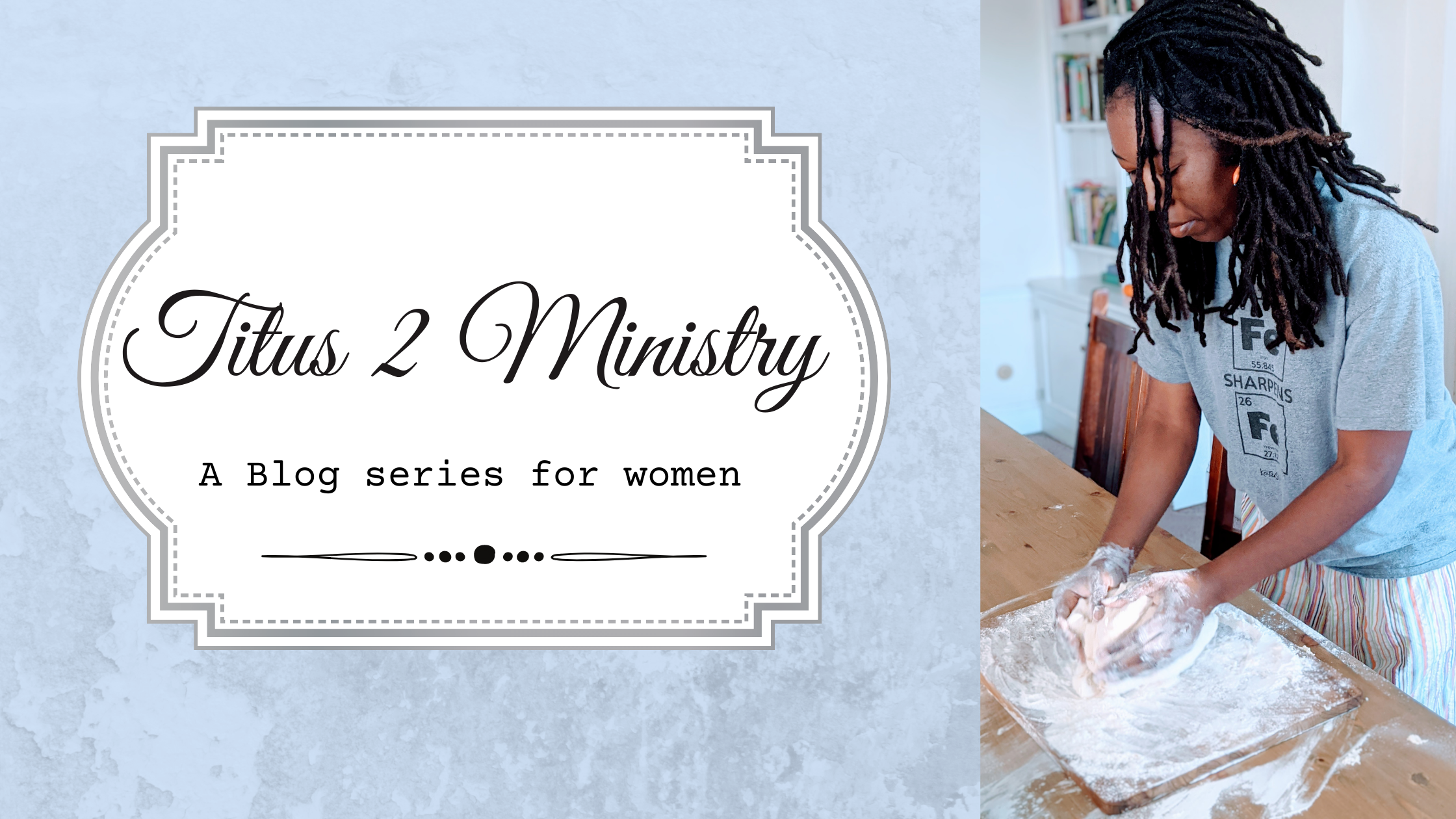 In Part 1 of this blog series I presented the Lord's "Titus 2 ministry for women" from Titus 2:3-5, highlighting God's command for older women to teach and train younger women in godliness. In Part 2 here, I will show what the Titus 2 ministry has looked like in my life, by sharing several examples of how older women have poured into me over the years.
I  am indebted to God for his mercy towards me in sending me Titus 2 women - older godly ladies whom the Lord sent when I needed it the most. These women to me are true legends of the faith and are a part of my redemption story.
Marge
I recently had a conversation over the phone with one of those women, who is a dear older friend of mine, Marge. I shared with her that one of the verses the Lord continues to press upon my heart is Psalm 50:14, where the LORD says,
Offer to God a sacrifice of thanksgiving,
and perform your vows to the Most High.
And call upon Me in the day of trouble.
I will deliver you and you shall glorify Me.
Marge reminded me that in the day of trouble, the Lord in his grace and mercy uses suffering and inconveniences in our lives to awaken our soul to our desperate need for him, and causes us to cry out to him for the fruits of righteousness (love, patience, self control), which in turn leads to a heart of thanksgiving (Phil. 1:11). Suffering, she mentioned, shows us that in our pride and arrogance we are tempted to think that we are rich, that we have prospered and need nothing, when in reality we are wretched, pitiable, poor, blind, and naked (Rev. 3:17).
This brought to mind the loud weeping of the Apostle John in Revelation 5:2-4, after hearing the question, "Who is worthy to open the scroll and break its seals?" Inside the sealed scroll contained God's plan to save His people and judge their enemies. When John realized "that no one in heaven or on earth or under the earth was able to open the scroll or to look into it" he began to weep loudly, since this meant God's plan of salvation and judgment would remain unfulfilled. In his distress, he realized that if it had not been for the worthiness of the Lion of Judah to open the sealed scroll, there would be no hope, no deliverance or no justice for the Church. What was first needed was a great weeping from John, a crying out to God and an honest look at his wretchedness and the unworthiness of all humanity. He needed a heavenly perspective of himself and a purified perspective of God. Like John, once we recognize that no one is worthy to save and rescue us but Christ Himself, then the Lord Jesus reveals himself as our deliverer. Only Christ is worthy to unfold and accomplish God's redemption program because He was slain, and with His blood, He purchased His people for His Father (Rev. 5:9). Through His perfect life, sacrificial death, and glorious resurrection, Jesus has overcome sin, death, and Satan on behalf of all who put their trust in Him!
Another thing that encourages me about Marge is that she owns one of the largest prayer journals I have ever seen. There are pages upon pages of Bible verses she has memorized through different seasons of her life. Her journal is truly a testimony of God's love for her. Before we ended our conversation, she led me to 1 Thessalonians 5:16-18 and told me to meditate on the verses "Rejoice always, pray without ceasing, and give thanks in all circumstances." So we did just that - we rejoiced together at God's faithfulness and then we hung up with renewed hearts and minds. Marge is battling cancer but she has made a resolve in her heart to trust God and give him thanks even in this battle. Marge has taught me and countless younger women in our congregation how to stand firm on the promises of God.
Mom Grace
Another older woman who has greatly encouraged me is 85 year old Grace (aka "Momma Grace"). She was sent to me through another one of God's divine appointments, namely, meet and greet time at church. She was so sweet to me and my family and had a country charm about her. Mom Grace was born and raised in Charlotte, North Carolina. She married young to an abusive, alcoholic husband, and lost a child to unknown causes not too long after birth. Through one of her husband's drunken rages he shot her in the head, and thinking she was dead, he shot and killed himself. God chose for Mom Grace to live. Through all of her pain and suffering, I have never heard Mom Grace utter anything hateful about her first husband. God used her suffering to show her His saving power. You would never know the pain she experienced, or that to this day the bullet that entered through her head was still there. Every woman and child in our church is her family and there is no one on the face of the earth could tell her otherwise. Her fear of the Lord and her love for his people has made a deep impression on my heart and the hearts of my daughters these last several years. To this day, I look forward to my weekly talk with Mom Grace.
Many Other Titus 2 Women
There have been countless other Titus 2 women whom the Lord used to encourage my soul, and who imparted their wisdom from the Father to me. Some were in my life when my children were little babies and I was a new mom. There were those that taught me the artistic skills of homemaking, how to make homemade bread, how to enjoy my children, how to invest in the quality of food we feed our children, glorifying God through art, gardening, animal rearing and sewing. As Titus 2:3 says, I learned from older women how to respect and see my husband as the Lord sees him: IN CHRIST. They taught me how to worship the Lord in front of my children in every season, and how to be a steward of the gifts the Lord has given me.
A few of these women I had never met face to face in my life. Some mentored me through their stories and legacy that were left behind in books and old articles. Others, like the author Susan Schaeffer, taught me the fundamentals of what the foundations of a homeschool home look like.
Different, but One
Many of these older women are quite different from one another, according to worldly standards. Their cultural backgrounds and ethnic makeup are different, but their wisdom comes from the same Heavenly Father (James 3:17). What unifies us is our union with Christ. The similarities that these women share are that they all love the Lord, and are convinced of his love for them. Their heart's desire is to serve God's people, and for Jesus to be magnified in their suffering and trials.
These women were pioneers in the homeschool field, missionaries, Mennonite friends, homesteader friends, African mommas, widows, and Pastors' wives.
Co-laborers for Christ
In my desire to soak up some of their wisdom, I decided to labor beside them. We cooked  meals for the sick and for new mothers, started Bible studies, bagged Christmas gifts for neighborhood kids, volunteered at women's pregnancy centers, took care of elderly neighbors, started women's newsletters, opened up our homes for ministry, planted gardens for families and churned homemade ice cream for little ones - and so much more! I enjoyed great hearty laughs with them and shared lots of pain. We rejoiced with each other, and mourned together.
There is no greater honor than for an older woman to walk with the next generation and train them to put their gaze on God's faithfulness and to accept the call to suffer for God's glory (Titus 2:4). This is what Peter meant when he was referencing Jesus' command to his disciples in 1 Peter 2:21, For to this you have been called, because Christ also suffered for you, leaving you an example, so that you might follow in his steps.
God knew how in my fear and selfishness I am tempted to despise the calling to suffer, so he sent me Marge, Grace, and many others in order to teach me that my cry to the Lord is not only heard - but every need of mine is answered in Christ - nowhere else. The greatest joy I have encountered has been when I have surrendered my will to the Lord.
Conclusion
In this day and age, the new trend is to reject the wisdom of the old, which has led many women to fall headlong into despair and immaturity. May the Lord revive the hearts of the older women in our midst. May they know that there is still a remnant of us that longs to know the secret and hidden wisdom of God, which He decreed before the ages, for our glory (1 Cor. 2:7).
Thank you to all you seasoned women in Christ who have been faithful in your calling! Indeed, the Lord will reward you with the crown of life.