The Titus 2 Ministry for Women (Part 1: Older Teach the Younger)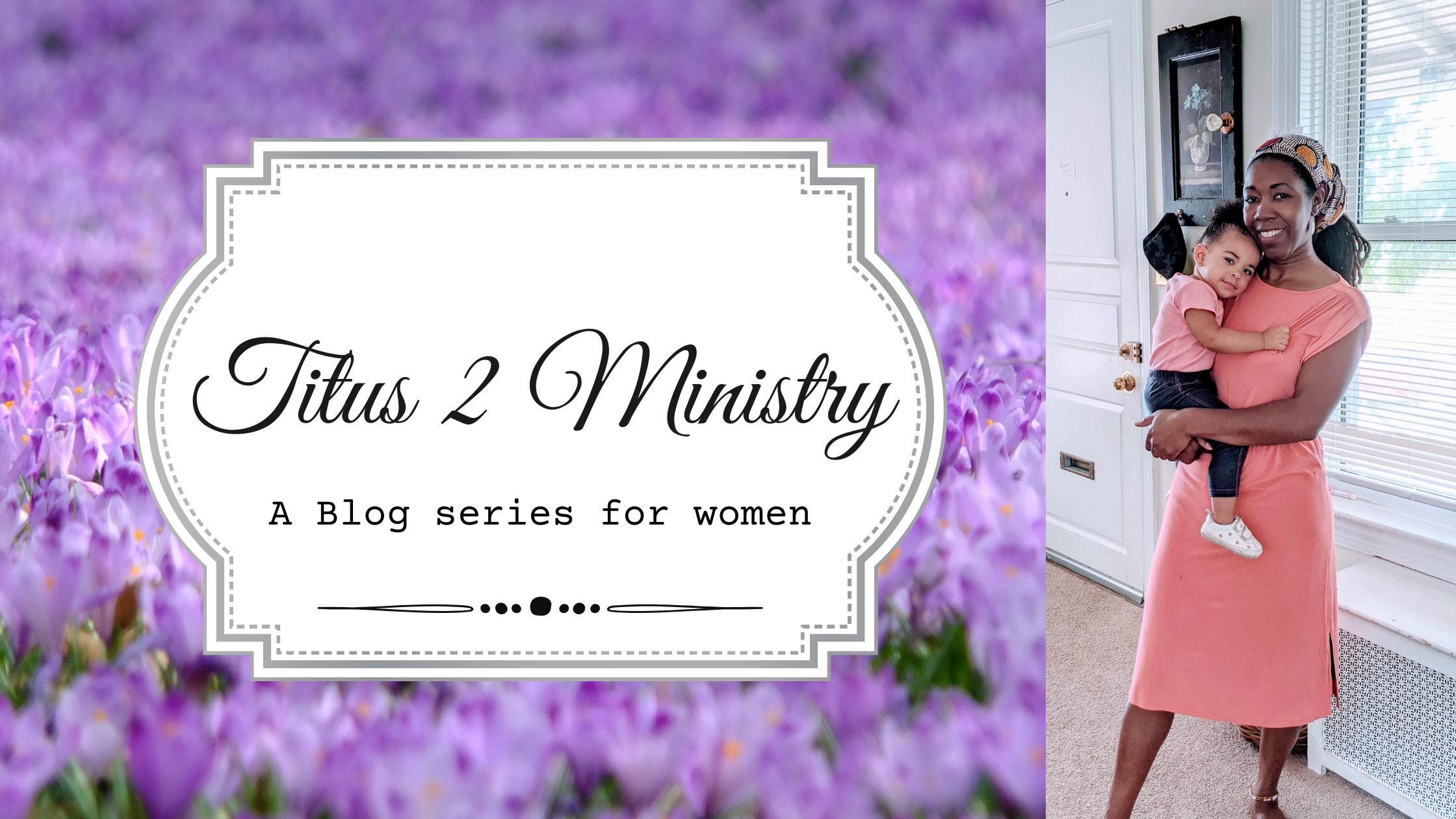 By Floriana and Timothy Brindle
"Likewise, older women are to be reverent in behavior, not slanders or slaves too much wine. Instead, they are to teach what is good, in order to train the younger women to love their husbands and children, to be self controlled, pure, working at home, kind and submissive to their own husbands, for this purpose: so that the Word of God may not be blasphemed." Titus 2:3-5
What is the Titus 2 ministry for women?
Essentially, it is the crucial ministry that God has given women in the Church, in which older women are to train and teach younger women. Just as older men are to be an example for younger men (in their teaching and in their godly lifestyle), so it is the case with older women discipling younger women. Notice the chiastic structure of the passage:
A:  "older men" (v. 2)
B: "older women" (v. 3)
B': "younger women" (v. 4)
A': "younger men" (v. 6)
The word for "older women" (presbutis) means "an aged woman" (Thayer's Lexicon). It is the feminine version for the corresponding word for "older men" (presbutēs) in verse 2 that refers to a man advanced in years. While "older women" only occurs here in the New Testament, Zechariah in his old age and Paul the prisoner at the end of his life were "older men" (Luke 1:18, Philemon 9). In the context of Titus 2, "younger women" are married and have children. Ideally, the "older women" are those who are more seasoned and experienced in the Christian walk and have a spiritual maturity that comes with time. Thus they are called to pursue such character in verse 3. However, this ministry of "older women" discipling "younger women" does not just apply to elderly women. Any Christian woman can disciple a woman who is younger than them. There may even be instances in which a woman is younger in age than another woman, but is more "elderly" in their walk - more mature in their knowledge and godliness - they too can pour into that other woman. (Mutual encouragement should not be forgotten either. See Rom. 1:12!)
Notice the first word in our passage above in verse 3: "likewise." Titus was commanded to teach sound doctrine (2:1), so that older men would be "sound in the faith" in verse 2. "Likewise" older women must be grounded in solid theology and have a robust understanding of the Word so that they can "teach what is good" (v. 3). How else can an older woman "teach what is good," unless she herself is firmly rooted in good teaching? The purpose of this teaching was "to train the younger women" to do these 7 things in verse 4-5:
To love their husbands (literally, "to be husband-lovers").
To love their children ("to be children-lovers").
To be self-controlled: this word is related to the word for "train" as the training from the older women has instruction in self-control as its focus.
To be pure - that is, to be holy. This is an attribute of Christ Himself in 1 John 3:3, which the Church shares through her union with Him (2 Cor. 11:2).
To be those who work at home - literally, "to be home-workers." One lexicon says this means "to carry out responsibilities in a household," and "to tend to things in the house."
To be kind - literally, in the Greek, to be "good" with the sense of being generous and of upright character. Similarly, in Luke 23:50 Joseph of Arimithea was a "good" (kind) and righteous man, and Baranabas was a good man - full of the Holy Spirit (Acts 11:24).
To be submissive (literally, "to be obedient") to their own husbands. Although this concept has been abused by many Christian men in the Church as a "proof text" to excuse their abusive, coercive control over their wives, our Wise Creator and God has always intended for a husband to be the head and leader of his wife and children, especially as a servant (Eph. 5:22-33).
Notice how the list of 7 things opens and closes with mention of the younger woman's relationship with her husband! As we will see below, a married woman's love and submission to her husband (along with everything else in the list) is a glorious and vibrant witness of the gospel of Jesus Christ to a world that despises God's good order.
To sum it up, older women are called to train younger women in virtuous, pure, wise living and self control. All of this was counter-cultural to the wicked lifestyle of the Cretans (1:12). So today, it is not popular with mainstream culture for a woman to love her husband, and to be submissive to him. However, through this discipleship laid out in Titus 2, younger women are encouraged to put on the mind of Christ by becoming subordinate to God the Father's will by living a life of surrender according to their new nature in Christ, who has already put to death the old man that wants to rule and have dominion over others.
The Old Testament Background: the older teach the younger
This idea of the older teaching the younger is not a brand new concept introduced in the New Testament. In the book of Deuteronomy, God commanded parents to teach their children to remember who the LORD is as the one true God (Deut. 6:7) who rescued them from being slaves to idols in Egypt in order to be His own treasured possession (Deut. 7:6, 14:2). Just like the redeemed Israelites were told to put away false gods from among them and walk in godliness and truth, so now the Church in Crete had been set free by Jesus Christ who "gave himself for us to redeem us from all lawlessness and to purify for himself a people for his own possession who are zealous for good works." (Titus 2:14). Just as the Old Testament saints were to teach one another as a way to remember God's faithful deeds and saving acts and to live in obedience to God among ungodly nations, so now Paul has commanded Titus to give this charge to the men and women in the midst of the pagan culture on the island of Crete. Titus 2 therefore applies God's command to the Isrealites in Deuteronomy in light of the final exodus accomplished by Jesus Christ at the Cross.
An Outworking of the Great Commission!
Moreover, this idea of older women discipling younger women is essentially the outworking of our resurrected Lord's great commission for His people to "make disciples" of all nations by means of teaching them to obey all that Jesus has commanded us in His Word (Matt. 28:18-20). Hence the promise that Jesus is present with His daughters when they are discipling each other ("I am with you!"), to empower them for this glorious ministry!
God's Good Design for the Family
Paul knew how crucial this type of discipleship was in the kingdom of God and how Satan's main desire was (and still is) to wreck the good order the Lord had in place for women, by having her question and resent her role. Paul knew that ultimately godliness is the end goal and any effectiveness on her part would cause others to flourish in Christ like those in her very home (e.g., her children, since she was a "children-lover!"). In chapter 1, Paul instructed Titus to appoint elders in Crete (1:5) to protect and shepherd the church from the circumcision party who was entering homes and causing chaos and confusion by teaching insubordination and empty lies. This brought much disorder in the church and was creating confusion in the roles of the women in the church, in marriages, and in parenting. Therefore, in chapter 2, this ministry of older women training younger women was a crucial weapon to shut down the work of Satan!
Likewise today, destructive teachings from the enemy in feminist movements seek to upset the roles that God intended in His wise design for families. For this reason, now more than ever before, we need Pastors to preach sound doctrine so that older women can also be sound in the faith (along with older men), and therefore be equipped to train younger women.
Why is Titus 2 discipleship so crucial for the church and the world?
For this main reason: so that the Word of God may not be reviled or blasphemed! (v. 5) This is the main point of our text. Notice that the ultimate purpose for the older women to teach what is good, is so that after she trains the younger women to do the seven things above, the Word of God may not be blasphemed (v. 5). Instead, the Word of God will be adorned and cherished and honored and obeyed! Thus the goal for the Titus 2 women's ministry is... MISSIONS! It is EVANGELISTIC! It is for the sake of being a faithful WITNESS for Christ!
The Cretans who represented ungodly ideologies and teachings were tempting the women in the church to blaspheme the Word of God through their disobedience so that non-Christians would mock Christ and His people. But the Lord used - and still uses today - godly older women to help train younger women to walk in godliness by looking at the perfect finished work of Christ Jesus. He suffered God's wrath for any ways in which they sinned by blaspheming the Word of God. He now clothes them with his righteousness and grants them His resurrection power to live out their calling in all seasons for the glory of God!
May the LORD revive the hearts of older women to yearn for younger women to rejoice in God's glory through their obedience to Christ for the sake of honoring God's Word among the nations. The result, is that non-Christians will be drawn to Christ:
It shall come to pass in the last days
that the mountain of the house of the LORD
shall be established as the highest of the mountains,
and shall be lifted up above the hills;
and all the nations shall flow to it,
3 and many peoples shall come, and say:
"Come, let us go up to the mountain of the LORD,
to the house of the God of Jacob,
that he may teach us his ways
and that we may walk in his paths."
For out of Zion shall go forth the law,
and the word of the LORD from Jerusalem.
4 He shall judge between the nations,
and shall decide disputes for many peoples;
and they shall beat their swords into plowshares,
and their spears into pruning hooks;
nation shall not lift up sword against nation,
neither shall they learn war anymore.
5 O house of Jacob,
come, let us walk
in the light of the LORD.
(Isaiah 2:2-5)