The Road to Jerusalem: Pt. 2 (Mark 10:35-40)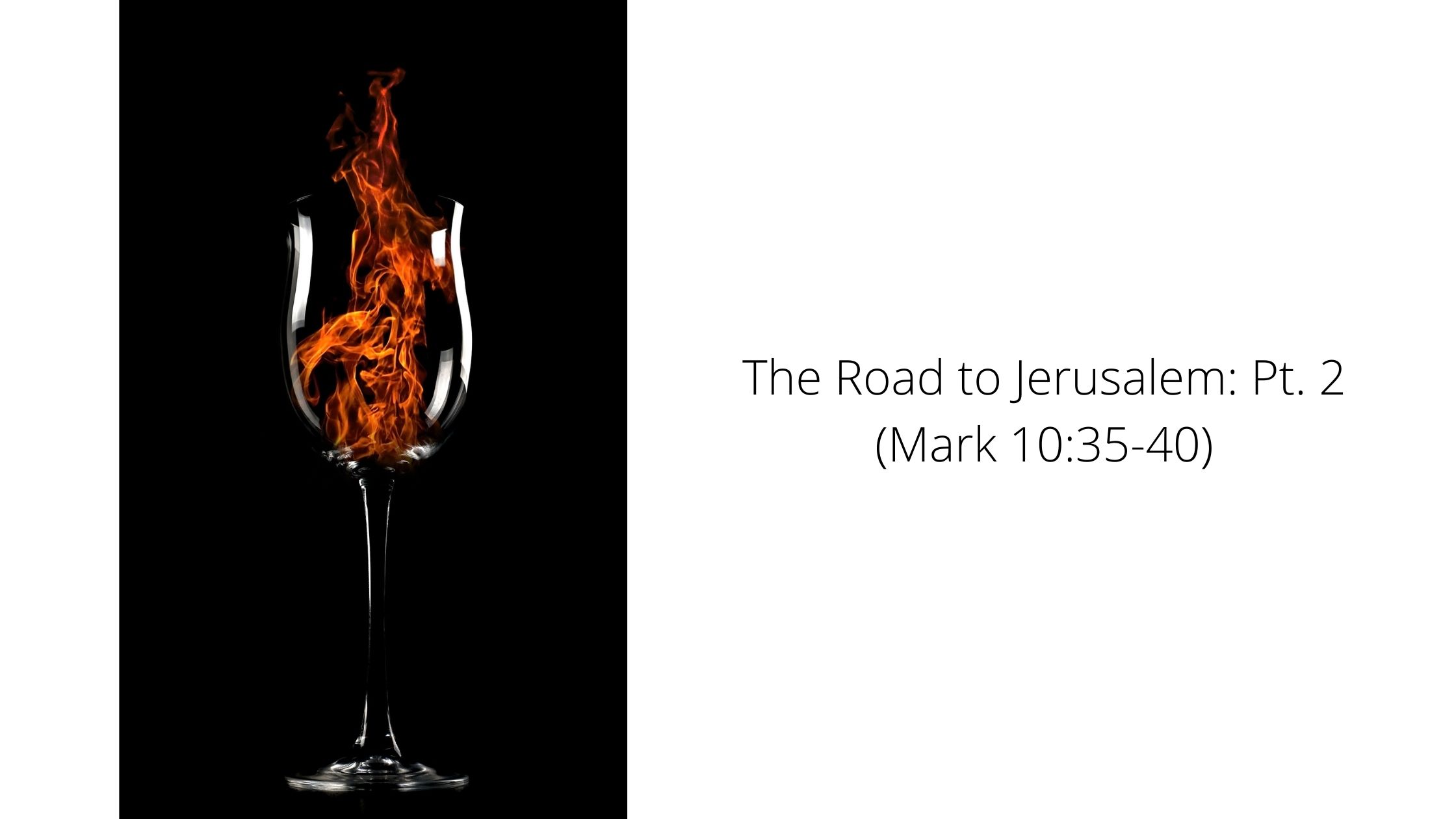 In our prior study of Mark's gospel, we saw Jesus leading His disciples on the road to Jerusalem as He unfolded for them His Messianic sufferings by referencing Isaiah 50:6. Unfortunately, our Lord's disciples were still blinded to what it means for Jesus to be the Messiah. The following discourse demonstrates this:
35 Then James and John (the sons of Zebedee) approached Him saying to Him,
"Teacher, we want You to do for us whatever we ask of You."
36 So He said to them, "What do you want Me to do for you?"
37 Then they said to Him,
"Grant for one of us to sit at Your right hand and for one of us to sit at Your left hand in Your glory."
38 Therefore Jesus said to them,
"You both have no idea what you are asking. Are you each able to drink the cup that I am drinking or to be baptized with the baptism that I am being baptized with?"
39 And they said to Him, "We are able."
Therefore Jesus said to them, "The cup which I am drinking you yourselves will drink and the baptism which I am baptized with you both will be baptized.
40 However, to sit at My right hand or at My left hand is not Mine to grant, but for those to whom it has been prepared for." (Mark 10:35-40, my translation)
Immediately following Jesus' clear statement about what it means to be the Messiah, James and John show that they totally missed the application of what it means to be a follower of Messiah: that you also must suffer in His likeness prior to entering into His glory. Instead, the two brothers approach Jesus in verse 35 and ask Him to grant that one of them might sit at the number one place of honor (His right hand) and the other at His number two place of honor (His left hand).
Not only were James and John desiring to bypass the necessary Messianic suffering that His disciples must participate in prior to sharing in His glory, but they were essentially asking, "Teacher, which one of us will you make first above the other—and above the rest of your disciples?"
It was not evil in and of itself to desire to be seated with Christ in His royal glory. In fact, the kingdom promise in the seventh chapter of Daniel is given to both the Son of Man and to His saints whom He represents:
The Son of Man will be granted dominion and glory and a kingdom (Dan. 7:13)
The saints of the Most High shall receive the kingdom forever and ever (Dan. 7:18)
Perhaps when James and John heard Jesus referring to Himself as the Son of Man a few verses earlier (Mark 10:33) they recalled this kingdom promise to the Son of Man and His people.
The Lord Jesus patiently responds in verse 38 by again reminding them that the prerequisite in God's Kingdom economy for being enthroned in glory is to first drink His cup of suffering and partake of His baptism, which is to say, they must first share in His sufferings.
It is clear from the grammar that our Lord wants His hearers to see His cup and His baptism as being closely connected. The word "or" in verse 38 presents these concepts as nearly synonymous. Also, the Greek uses a parallel grammatical structure (similar to a chiasm) in order to show the correlation of the cup and the baptism, with an A-B-C-D-B'-C'-A' pattern:
| | | |
| --- | --- | --- |
|   ABCDB'C'A' | δύνασθε-------πιεῖντὸ ποτήριονὃ ἐγὼ      πίνωἢτὸ βάπτισμαὃ ἐγὼ      βαπτίζομαιβαπτισθῆναι; | Are you each able-------to drinkthe cupwhich I Myself am drinkingorthe baptismwhich I Myself am baptized withto be baptized with? |
The A-B-C-D-B'-C'-A' pattern in Jesus' words is as follows:
(A) infinitive verb ("to drink"/"to be baptized with")
(B) article-noun ("the cup"/"the baptism")
(C) relative pronoun + 1st person pronoun + present active indicative 1st person singular verb ("Which I Myself am drinking"/"which I Myself and baptized with")
(D) particle ("or")
Let us now unpack the significance of these two metaphors which Jesus uses for His Messianic suffering, namely, His cup and His baptism:
1. His Cup
Jesus often referred to His suffering as His cup. In John 18:11, after Peter attempted to rescue Jesus from being arrested, Jesus asked the rhetorical question, "the cup which the Father has given to Me, shall I not drink it?"
In Matthew 26:39, Mark 14:36, and Luke 22:42 "this cup" (τὸ ποτήριον τοῦτο) which Jesus mentions in the garden of Gethsemane clearly is referring to the suffering of death that awaits Him. Matthew 20:17-28 contains a parallel account to our passage in Mark 10:32-45.  In contrast to Mark 10:38, Jesus in Matthew 20:22 puts the emphasis on the imminent, coming nature of "the cup which I am about to drink" (τὸ ποτήριον ὃ ἐγὼ μέλλω πίνειν). The cup is coming soon—at the Cross—but it is not yet.
But in Mark's gospel, Jesus uses the present tense for both verbs in 10:38: He mentions the cup that He is presently, actively drinking, and the baptism which He is presently, actively being baptized with. Notice the slight difference of wording in Matthew and Mark's gospels, indicated by italics:
| | |
| --- | --- |
| Matthew 20:22 | Mark 10:38 |
| ἀποκριθες δὲὁ Ἰησοῦς εἶπεν· οὐκ οἴδατε τί αἰτεῖσθε. δύνασθε πιεῖν τὸποτήριον ὃ ἐγὼμέλλω πίνειν; | ὁ δὲἸησοῦς εἶπεν αὐτοῖς· οὐκ οἴδατε τί αἰτεῖσθε.   δύνασθε πιεῖν τὸποτήριον ὃ ἐγὼπίνω ἢ τὸβάπτισμα ὃ ἐγὼβαπτίζομαι βαπτισθῆναι; |
| Therefore, answering Jesus said,"You both have no idea what you are asking for. Are you each able to drink the cup which I Myself am about to drink?" | Therefore, Jesus said to them,"You both have no idea what you are asking for. Are you each able to drink the cup which I Myself am drinking or to be baptized with the baptism which I Myself am baptized with?" |
What is the significance of this slight difference in wording? While Mark certainly has the Cross in mind like Matthew, the Holy Spirit through Mark emphasizes that Messiah's entire life on earth consists of suffering, particularly during His earthly ministry, climaxing at the Cross. For this reason, Mark 10:38 depicts Jesus saying that He has already begun to drink the cup of suffering, seen in the words: "the cup which I Myself am (presently, actively) drinking."
The Westminster Larger Catechism expounds the pre-cross, earthly sufferings of Jesus by saying that they began first at His birth, when God the Son "was pleased in the fullness of time to become the son of man, made of a woman of low estate, and to be born of her; with divers circumstances of more than ordinary abasement." (WLC, Q.47, emphasis mine). The next question of the Larger Catechism unpacks our Lord's pre-cross sufferings even more:
Question 48: How did Christ humble himself in his life? Answer: Christ humbled himself in his life, by subjecting himself to the law, which he perfectly fulfilled; and by conflicting with the indignities of the world, temptations of Satan, and infirmities in his flesh, whether common to the nature of man, or particularly accompanying that his low condition.
But to fully understand Messiah's "Cup Theology," as usual, we must go back to the Old Testament, where one's "cup" (כּוֹס) is a metaphor connected with their allotted portion (מְנָת) from God, whether in judgment or salvation. For "the wicked, fire and sulfur and a scorching wind shall be the portion of their cup" (Ps. 11:6, ESV). But the righteous says that God Himself and His salvation is "My allotted portion and My cup" (Ps. 16:5). This points to the reality that there are two juxtaposing cups that are given from God based on whether one is wicked or righteous:
First, there is the Cup of Wrath. This is the portion that the wicked are given from God in His judgment, namely, to drink the cup of wrath from His hand:
"For in the hand of the LORD there is a cup with foaming wine, well mixed, and he pours out from it, and all the wicked of the earth shall drain it down to the dregs." (Ps. 75:8, ESV)
"Wake yourself, wake yourself, stand up, O Jerusalem, you who have drunk from the hand of the LORD the cup of his wrath, who have drunk to the dregs the bowl, the cup of staggering." (Isa. 51:17, ESV, emphasis mine)
"Thus the LORD, the God of Israel, said to me: "Take from my hand this cup of the wine of wrath, and make all the nations to whom I send you drink it." (Jer. 25:15, ESV, emphasis mine)
When one drinks the cup of God's wrath, a trial of distress and an ordeal of suffering is in view.
But Scripture also mentions another cup that God gives for the righteous to drink, who are the recipients of His saving mercy.
Second, the Cup of Salvation. As we saw in Psalm 16:5 above, this refers to the cup that God graciously allows His people to drink in their salvation:
"What shall I render to the LORD for all his benefits to me? I will lift up the cup of salvation and call on the name of the LORD." (Ps. 116:12-13, ESV)
The pouring out of the cup in celebration of God's saving goodness brings into view the drink offering of the Old Testament which accompanied the whole burnt offering of a lamb along with a grain offering at the feast of the firstfruits, mentioned immediately after the Passover in Leviticus 23.
"And the grain offering with it shall be two tenths of an ephah of fine flour mixed with oil, a food offering to the LORD with a pleasing aroma, and the drink offering with it shall be of wine, a fourth of a hin." (Lev. 23:13, ESV, emphasis mine)
Just as the psalmist correlated His allotted (land) portion with His cup, which was the LORD Himself (Ps. 16:5; i.e., the Levites had no land portion – the LORD was their portion), the feast of firstfruits was to be conducted when God's people arrived in the land of promise (Lev. 23:11).
It should not surprise us then that Jesus carries this "cup theology" into the upper room where He institutes the Lord's Supper. As the fulfillment of Leviticus 23, the Lamb Himself distributes the bread and the cup, and the fruit of the vine in the cup, He will not partake of again until all of His blood bought people are with Him in the heavenly land of promise (Mark 14:25).
Thus the cup that Jesus' followers drink in Communion is nothing short of the cup of salvation, which represents our partaking in all of the gracious benefits we have through our union with Christ, such as the forgiveness of sins (Matt. 26:28). Therefore, Paul asks the rhetorical question, "The cup of blessing that we bless, is it not a participation (or "fellowship") in the blood of Christ?" (1 Cor. 10:16, ESV)
Is there a relationship between the cup of wrath and the cup of salvation? Yes. In fact, in Matthew 26, Mark 14, and Luke 22, Jesus mentions "this cup" in the Garden of Gethsemane, which clearly harkens back a few verses to "the cup" He just mentioned in each of those chapters—at the Lord's Supper. But Jesus is not just alluding to the cup He spoke of earlier in the chapter. The Son of God, who is the Author of the Old Testament (1 Peter. 1:10-12), is taking up the Old Testament "cup" motif in order to reference the cup of wrath given by God in judgment.
In Communion, Messiah's disciples are granted to drink the cup of salvation representing His shed blood for the forgiveness of sins, because Jesus Himself obeyed the Father by drinking God's cup of wrath on their behalf, in His death on the cross. It should be clear at this point that the kind of cup Jesus is referring to in Mark 10:38 (that He is presently, currently, drinking, as a prerequisite to being exalted in glory) is the same exact cup He refers to in the Garden of Gethsemane in Mark 14:36, which is the cup of the fullness of God's wrath which He will drink down to the dregs in order to satisfy the just judgment we deserve for our wickedness.
Although wicked sinners like us deserve the cup of wrath which is reserved for the ungodly, Christ the Righteous Servant drinks it for us. But we do not go cup-less. Although the Lord Jesus is the ultimate Righteous One, the glory of the gospel is that He drinks the cup of wrath which should be our allotted portion for all eternity, so that we might drink, the cup of salvation forever in the land of the living!
Why then does Jesus tell James and John that they also will drink His cup? The cup Jesus drinks in His suffering is both different and the same as the cup that His disciples must drink. It is different in so far as Christ's cup is the full punishment and anger of God due to our sin, which He drinks down to the dregs in His propitiatory death as He satisfies the wrath of God in our place. In this sense, Christ's disciples never ever drink His cup of wrath, because Jesus' once-for-all sacrifice was totally sufficient to fully placate the condemnation we deserve (Rom. 8:1-3).
Thus James and John truly had no idea what they were affirming when they spoke of their ability to endure Messiah's cup and baptism. "The reader will find that these disciples, as well as the other disciples who had expressed their indignation at James and John, simply did not have the stomach for the cup and the baptism for which they had said they were ready." (Evans, World Biblical Commentary: Mark 8:27-16:20, 118).
But we can't get past Jesus' words, "The cup which I am drinking you yourselves will drink" (v. 39). In another sense, Christ's cup is the same cup His disciples must drink in so far as they also are called to share in His sufferings, not in order to pay for their sins, but as partakers in the obedient sufferings of Christ. James himself was killed with a sword by Herod because of his association with Jesus (Acts 12:1-3). John identified himself as a "fellow partner" (συγκοινωνoς) with the persecuted churches in Christ's "tribulation" (θλῖψις), which are the very "afflictions" (θλῖψις) Paul says the Church of Jesus must share in (Col. 1:24).
Because the Son of Man undergoes the end-time sufferings of judgment on behalf of His people, they now must experience a redemptive-judgment of purification:
2 In that day the branch of the LORD shall be beautiful and glorious, and the fruit of the land shall be the pride and honor of the survivors of Israel. 3 And he who is left in Zion and remains in Jerusalem will be called holy, everyone who has been recorded for life in Jerusalem,4 when the Lord shall have washed away the filth of the daughters of Zion and cleansed the bloodstains of Jerusalem from its midst by [the] Spirit of judgment and by [the] Spirit of burning. (Isa. 4:2-4, ESV, adjustments mine).
It is striking that the means by which God Himself purifies His people is by His Holy Spirit performing a work of "burning" (בער), which is the same word used for the burning bush (Ex. 3:2). The sense in these passages is that God will purify His people without utterly consuming them. (See also Zech. 13:7-9; Dan. 11:33-35; Mal. 3:3-4.)
It is the allotted portion of all of Jesus' disciples to fellowship with Him in His sufferings (Philippians 3:10), which "fiery trials" actually serve to purify them. Next time you partake of the cup at the Lord's Supper, celebrate your union with Christ as one who has the glorious privilege of "suffering together with Him" (Rom. 8:17). Although we certainly drink the cup of salvation in Communion (since Christ drank the cup of God's anger in our place), we nevertheless are in the periphery of Jesus' words to His disciples, "The cup which I am drinking you yourselves will drink" (v. 39). The cup at the Lord's Supper symbolizes this reality, among others.
Yet there is another metaphor Jesus uses for His Messianic sufferings:
2. His Baptism:
Jesus correlates His cup with His baptism in Mark 10:38. Like His cup, His baptism is also an Old Testament concept. Although the word is not found in the Old Testament, the concept certainly is, according to the inspired Apostles. Peter likens the flood to our baptism, symbolizing our identification with Christ in His death and resurrection (1 Peter 3:18-21). Paul refers to the Exodus as a baptism, saying that the sons of Israel "were baptized into Moses in the cloud and in the sea" (1 Cor. 10:1-2). Why did the Apostles call these events a baptism? In each of these episodes the wicked were destroyed by God's waters of judgment, while His people who identified with God's appointed leader (i.e, Noah, Moses) passed through safely on dry ground. In this way, a redemptive-historical definition of baptism is: a collective people identifying with a singular representative figure who passes through a water-ordeal, as one passing through death unto life.
Such "water-judgment" imagery is often used in the Old Testament to depict suffering and death (Ps. 69:1-2, 14-15). At times God's judgment is described as a deep watery-grave (Ps. 88). Jonah himself was plunged into the deep seas as a picture of Israel cast off in their exile, only to be raised up after three days in Sheol (Jonah 2). Our Lord ascribes Jonah's deliverance from his water-ordeal as the very sign of His death and resurrection (Matt. 13:38-40).
Although Jesus did not pass through YHWH's waters of judgment on the Cross, He certainly endured the very wrath of God which the flood-waters were pointing forward to, namely, end-time judgment (2 Peter 3:6-7), and was raised unto new-creation resurrection life as the firstfruits of a single harvest of resurrection sons and daughters.
Like we saw with the cup above, we share and do not share in Christ's baptism. We do not share in His baptism that atones for sin and appeases the justice of God. Only God the Son was able to be baptized by the fullness of the infinite wrath of God when He bore our sins on the Cross. However, we our baptized into His death and raised up in newness of life through our union with Him so that we are no longer slaves to sin (Rom. 6:1-6). Moreover, we also undergo the baptism of fire which is nothing short of the Spirit of God being poured out upon us in order to purge us of sin and uncleanness (Luke 3:16). In this way, we should also consider the sacrament of baptism as a symbol of each believer identifying with Jesus in His obedient sufferings, as we observed above with the Communion cup.
In summary then, it is clear that Messiah's "cup" has much to do with His "baptism." They are both Old Testament metaphors for enduring an intense trial from God:
The cup is a metaphor for suffering (Isa 51:17, 22), and baptism is a metaphor for being plunged into calamity (see Ps 42:7; 69:1). The path to glory goes through the valley of death and requires taking up a cross, drinking to the dregs a cup of suffering, and undergoing a deluge of sorrow. (Garland, A Theology of Mark's Gospel, 146)
We saw above that these metaphors converged as a reality for Jesus at the Cross, where He drank the cup of God's wrath which was His baptism. It should not be surprising then that the other place "the cup" and "baptism" themes meet – is the "lake" of fire:
And another angel, a third, followed them, saying with a loud voice, "If anyone worships the beast and its image and receives a mark on his forehead or on his hand, 10 he also will drink the wine of God's wrath, poured full strength into the cup of his anger, and he will be tormented with fire and sulfur in the presence of the holy angels and in the presence of the Lamb. (Rev. 14:9-10, ESV)
Just as Psalm 11:7 (10:6, LXX) declares that the "portion" (μερίς/μέρος) of their cup shall be "fire and sulfur" (πῦρ καὶ θεῖον), so Revelation 21:9 says that the "portion" (μέρος) of the wicked will be the lake that burns with "fire and sulfur" (πυρὶ καὶ θείῳ). To those who do not put their trust in Jesus Christ (or those who drink the cup of Communion in unbelief, 1 Cor. 11:29), they will drink the cup of God's wrath forever.
One of the messages being conveyed in Jesus' rescue of His disciples from the stormy-seas on the "lake" (λίμνη) of Galilee, is that He is the One who rescues them from the "lake of fire" (την λίμνην τοῦ πυρoς), just as He rescued those with Noah and Moses through the waters of death.
In closing, it should strike us that Jesus says in Mark 10:40 that it is not His prerogative to grant that His disciples sit at His right hand or His left hand in glory. He specifies in Matthew 20:23 and Matthew 25:34 that His Father is He who grants such a reward. Such a limitation on Jesus' part to not grant heavenly enthronement in Mark 10:40 is by no means an indication that He is below God the Father in His divine essence. Rather, during His earthly stage of humiliation and suffering, the Lord of Glory submitted Himself to such a limitation in order to condescend as a servant among His brethren (Phil. 2:5-8). We can tell this is the case because later when Jesus is exalted in His kingly resurrection-glory, He Himself reassumes such authority to grant this blessed reward to all who persevere in faith:
"The one who conquers, I will grant him to sit with me on my throne, as I also conquered and sat down with my Father on his throne." (Rev. 3:21, ESV, emphasis added)
How wonderful is this salvation, that we should be conformed to the Messiah's sufferings, in order that we might be partakers of His glory!
To hear more about how Christ's baptism is an Old Testament concept, listen to Timothy's song "Death and Resurrection Part 3: Water-Judgment" from The Unfolding.