Eight Ways to Use Psalm 117 for Homeschool (Homeschool Lesson 1)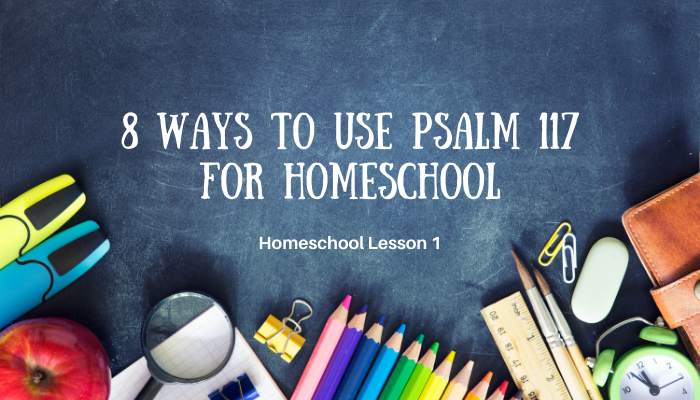 Written by Timothy and Floriana Brindle
This is the first blog in a series in which we will seek to encourage families with some of the simple ways we have implemented Scripture in homeschooling our children. (Even if you don't homeschool your kids, we pray this is encouraging for discipling them.) For the Brindles, homeschool consists of instructing our children in the fear of the Lord and instilling in them a Biblical worldview, not just from 8 a.m. to 3 p.m. (Mon-Fri), but every waking hour of the year. Here are eight ways that Psalm 117 has been useful for Bible-based Christian education.
1 Praise the LORD, all nations!

Extol him, all peoples!

2 For great is his steadfast love toward us,

and the faithfulness of the LORD endures forever.

Praise the LORD!

(Psalm 117, ESV)
1. Scripture Memorization
What a blessing it is to teach our children that God commands us to hide His Word in our hearts so that we might not sin against Him (Ps. 119:11)! You may notice that Psalm 117 only has two verses. As the shortest psalm in the psalter (and the shortest chapter in the Bible), this makes it ideal for young children's (and adults!) Bible memorization. The way that the psalm begins and ends with "praise the LORD" is helpful for memorizing. Thus Psalm 117 is a great introduction to the rest of the psalter, which has similar phrases.
2. Copywriting
Copywriting is when our children simply copy a text with a focus on spelling, penmanship (handwriting), punctuation, and grammar. For our beginner readers, there are several sight-words in the psalm to point out ("the", "all", "for", "is", "his", "us", "and", and especially "LORD"!).
3. Dictation
This is when we slowly read the text out loud for our children to write down what they hear. Dictation reinforces listening skills, and like copywriting, it strengthens spelling and grammar. (You can even sneak in a word about "Divine Dictation": how God often spoke to the prophets and told them to write down exactly what He said, word for word! [Jeremiah 30:1-2]). Another skill this cultivates is "Narration" (i.e., Listening/Reading Comprehension) which is when our children explain back to us in their own words, what they have read.
4. Covenant Theology
Psalm 117 is an excellent passage to introduce our children to the central idea in Scripture of covenant. How can we simply explain the concept of "covenant" for our children? We begin by teaching them that a covenant is a very special promise that God makes to His people. Three times in Psalm 117 is God's covenant Name, YHWH ("I AM who I AM"), which is translated in English as "LORD" in all capital letters (see Ex. 3:14-15). We also draw to their attention the words "steadfast love" and "faithfulness" - which go together in Scripture like peanut butter and jelly! These words express God's covenant love for His people in which He promises to be their God, and for them to be His people, forever (see Gen. 17:7). This brings us to the fifth way we use Psalm 117.
5. "Where is Christ?"
Teaching our children to see Jesus in the whole Bible, including the Old Testament, is one of the greatest privileges of being a parent. We seek to ask our kids this question ("Where is Christ?") in every passage we discuss. Psalm 117 is a great place to start. How should we understand Psalm 117 in a way that is different from Jewish people who do not believe in Jesus as Messiah?
For one, Jesus is the embodiment and full expression of God's covenant love for His people, by giving Him to die on the Cross for our sins, and raising Him from the dead. The "faithfulness of the LORD" comes to us through Jesus! All of God's covenant promises find their "yes" and "AMEN" in Him (2 Cor. 1:20). Jesus Christ is the offspring of the woman whom God promised would crush the head of the Serpent (Gen. 3:15), the offspring of Abraham who blesses "all nations" (Gen. 22:18), and the offspring of David who sits on His throne forever (2 Sam. 7:12-13). This is why Mary and John the Baptist's father interpreted the coming of Christ as fulfilling the covenant mercy that God promised to the patriarchs (Luke 1:54-55, 72-73).
Second, Jesus is YHWH! Jesus was alluding to this fact when He told the unbelieving Jews, "before Abraham was, I AM" (John 8:58). Jesus is not only the faithful Israelite who witnesses to the nations and mediates their praise, but as the God-Man, He is the covenant God that is to be worshipped.
Third, Jesus is the One who causes non-Israelites (i.e., Gentiles ["the nations"/"the peoples"]) to be brought near to worship God, as His Spirit was poured out on the nations at Pentecost. This brings us to our next point.
6. Missions and Evangelism
The focus of this psalm is God's praise extending to the nations, from the nations. In other words, the nations are commanded, invited, and enabled to worship the living God in verse 1. How so? Because ("For") His covenant love has abounded for them also (v. 2)! In Christ, all of God's covenant promises of salvation  overflow to Gentiles who put their faith in Jesus (Gal. 3:16, 28-29; Eph. 1:3, 2:19, 3:6). In this regard, the nations have become a part of the one, true people of God, through Christ Jesus, who reconciles all people groups to His Father, and to one another! This gospel is the world's only hope for ethnic and racial reconciliation!
The missional theme of Psalm 117 helps set the tone for our family worship time, which involves praying for the nations of the globe, that Christ's gospel would extend to them (global missions). Moreover, the nations of the world have come to the United States, so we pray for boldness and compassion to share Christ with our neighbors. Since the nations and the peoples refer to all Gentile people groups, that includes non-Jewish Americans like us, and those next door (local missions)!
A helpful way for us to focus on Gospel missions is having "Missions Mondays" in which we learn about a different nation in the world each week through a book called "Operation World: The Definitive Prayer Guide to Every Nation." We also print out prayer cards of the unreached people groups of the world from joshuaproject.net. We then use these prayer cards to intercede for the nations (along with our other prayer cards during prayer-card night on Wednesdays). The DVD set "Dispatches From the Front" is a great missional way to do family movie night. (Learning about the different nations of the world is useful for teaching geography to our children, as well.)
7. Poetry
Psalm 117 has been a great passage to teach our older children a basic understanding of Hebrew poetry, namely, Hebrew parallelism> Often times in Hebrew parallelism the first line is unpacked by the second line. For instance, in verse 1, "Praise the LORD" is parallel with "Extol Him", and "all nations" is parallel with "all peoples." Likewise in verse 2, the concepts of "His steadfast love" and "the faithfulness of the LORD" are parallel, as is the abounding nature of His "great" love "forever." As a chiasm, the psalm is bookended with the phrase, "praise the LORD!" This introduction to Hebrew parallelism has been useful as we dive into other Old Testament poetry and wisdom portions of Scripture.
8. Worship
Psalm 117:1 contains two commands for us and our children: we are commanded by God to praise and to extol the LORD. But like their sinful parents, our children have often not desired to worship God above all things. Like us, they are in deep need of the steadfast love and faithfulness of the LORD to forgive them and change their hearts. Knowing this pardoning and transforming grace produces worship!**
Lastly, Psalm 117 brings us to family worship time in song, which is seen in the Hebrew verb "extol Him." Just as the psalms were written as the inspired hymnal for the people of God, we seek to find other hymns that draw out the themes of the passages we are studying so that we can extol our God based on those truths. A wonderful hymn containing many of the concepts in Psalm 117 is "The God of Abraham Praise" (Trinity Hymnal #34). Just as Psalm 117 begins and ends with "praise the LORD," so we seek to model for our children that the joyful, abundant life in Christ is lived in worship and service of our Triune God. "What is the chief end of man? Man's chief end is to glorify God, and to enjoy Him forever!" (WSC Q.1)
The God of Abraham praise,
Who reigns enthroned above;
Ancient of everlasting days,
And God of love:
Jehovah! great I AM!
By earth and heav'n confessed;
I bow and bless the sacred name,
For ever blest.
He by himself hath sworn,
I on his oath depend;
I shall, on eagle's wings upborne,
To heav'n ascend:
I shall behold his face,
I shall his power adore,
And sing the wonders of his grace
For evermore.
The whole triumphant host
Give thanks to God on high;
Hail Father, Son, and Holy Ghost,
They ever cry:
Hail Abraham's God and mine!
I join the heavenly lays
All might and majesty are thine,
And endless praise.
"The God of Abraham Praise" (verses 1, 3, and 6)